Make 'Em Pay
Hello everyone,
This has been a crazy week for me discovering plenty of new things outside the game, like ... marketing ? Who wants to do that right ? And getting in touch with people to offer the game a decent start once the version 1 arrives.
I am getting some help on the UI side of things but cannot swear things are going to be better soon. It looks fine to me now but I am no expert (if someone wants to help, you are welcome of course).
On a more pleasant matter the version v0.8.9 has just been released and here is the change log :
- You can now use the keyboard in the login menu without activating the keyboard 1.
- Added "Everybody Freeze" bonus to the "wasn't me" GM as a try.
- Added support for keyboard in the menu even when no player is a keyboard one.
- Vampire GM : Battery goes down faster when torch is on.
- Fixed a problem with ringing player being killed and keeping the ring on.
- Now every controller can't interact in the login menu (not only player1)
- Display of the right key required depending on the first player controller type, at the end of a game.
- Fixed a bug displaying the blue hitbox in the vampire GM when a survivor is shot.
- Fixed a bug with the vampire able to attack multiple targets at once.

- Fixed a few minor bugs/display issues.

One more good news is that the new game mode " Don't Push it" is being tested as I am speaking for a release in the next patch. Getting us one more step closer to the version 1.0 (two weeks from now ?).
This next and last game mode will be a mix between the sumotori game and a classic pinball. Sounds weird, do I hear ? It does. But the game so far as been a very good entertainment and I am sure you are going to enjoy it.
Here is the of the game (walls are placeholders)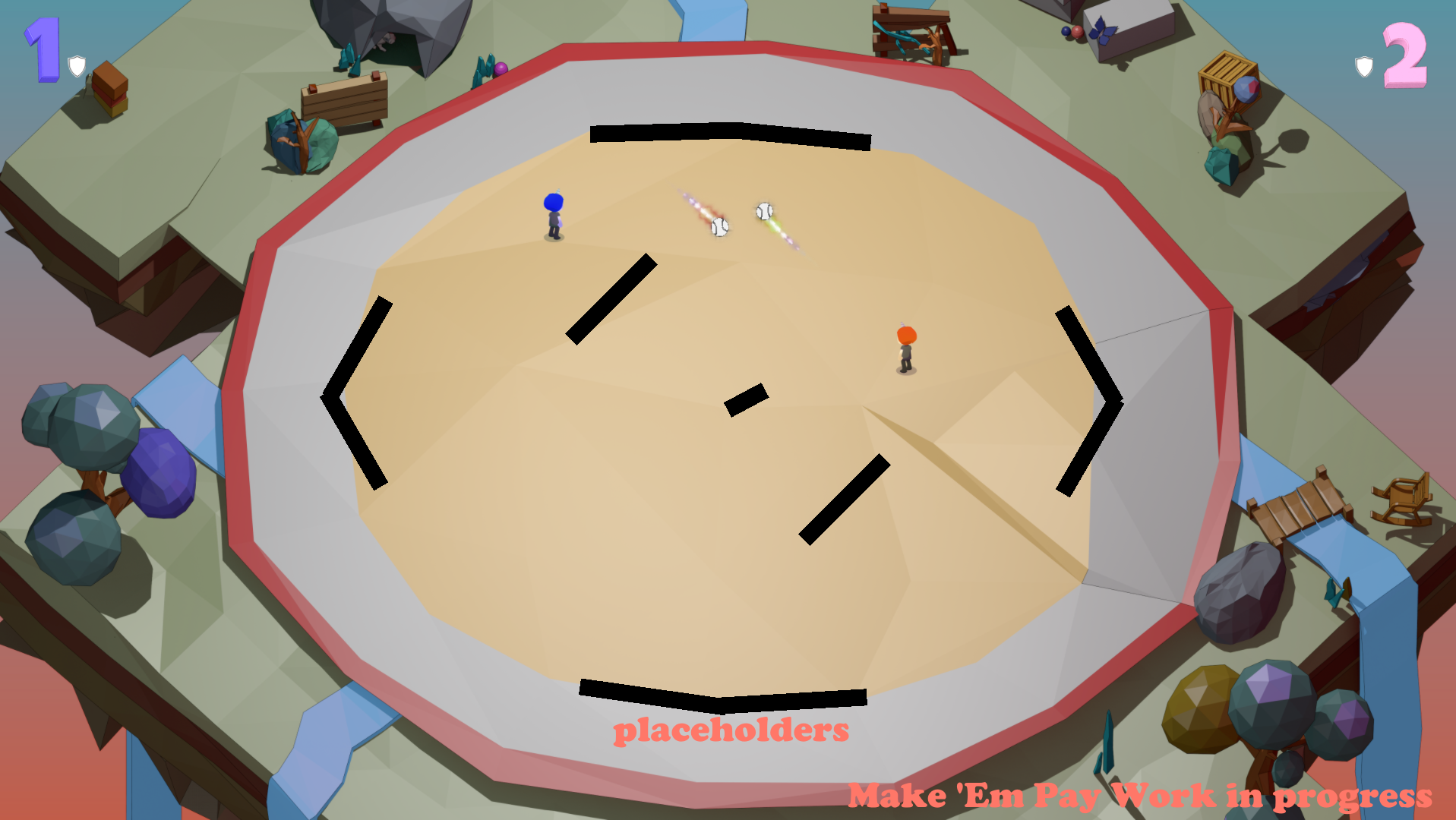 See you soon !
Cheers,
Mael
Files
make-em-pay-osx-beta.zip
137 MB
Version 0.8.9
Jun 28, 2018
make-em-pay-linux-beta.zip
128 MB
Version 0.8.9
Jun 28, 2018
make-em-pay-windows-beta.zip
123 MB
Version 0.8.9
Jun 28, 2018